Think about how Joshua felt when God told him to lead the Israelites into Canaan, drive out the pagan inhabitants, and secure the land as a homeland for His people.
In the natural, this would seem to be an impossible task but the key of course is revealed in the following Scripture:
Have I not commanded you? Be strong and of good courage; do not be afraid, nor be dismayed, for the Lord your God is with you wherever you go. Joshua 1:9 
God does not commission us without the promise of His presence and provision. We only have to be "strong and of good courage."
How would you like to be Noah, being told to build an enormous boat as God was going to destroy every living creature on the earth save those on this boat Noah was to build. We are simply told that "Noah did this; he did all that God had commanded him" Genesis 6:22
How Long Was the Ark?
At approximately 510 feet long, it would take nearly one and a half football fields to equal the Ark's length. That's big enough that NASA could lay three space shuttles—nose to tail—on the Ark's roof!

How Tall Was the Ark?
The roof of Noah's Ark was more than 50 feet from the ground—higher than a modern four-story house. That's plenty of space for three extra-tall inner decks as the Bible describes.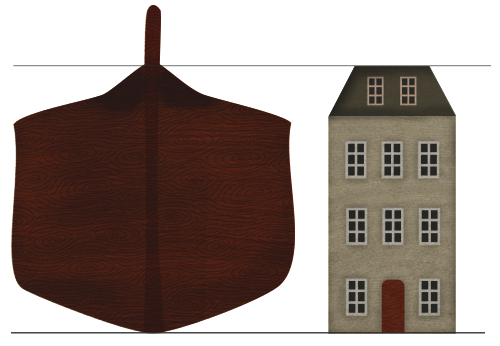 The Ark had the same storage capacity as about 450 standard semi-trailers. A standard livestock trailer holds about 250 sheep, so the Ark had the capacity to hold at least 120,000 sheep.
"And God said to Noah, "I have determined to make an end of all flesh, for the earth is filled with violence through them. Behold, I will destroy them with the earth. Make yourself an ark of gopher wood. Make rooms in the ark, and cover it inside and out with pitch. This is how you are to make it: the length of the ark 300 cubits, its breadth 50 cubits, and its height 30 cubits. Make a roof for the ark, and finish it to a cubit above, and set the door of the ark in its side. Make it with lower, second, and third decks. For behold, I will bring a flood of waters upon the earth to destroy all flesh in which is the breath of life under heaven. Everything that is on the earth shall die. But I will establish my covenant with you, and you shall come into the ark, you, your sons, your wife, and your sons' wives with you. And of every living thing of all flesh, you shall bring two of every sort into the ark to keep them alive with you. They shall be male and female. Of the birds according to their kinds, and of the animals according to their kinds, of every creeping thing of the ground, according to its kind, two of every sort shall come in to you to keep them alive. Also take with you every sort of food that is eaten, and store it up. It shall serve as food for you and for them." Noah did this; he did all that God commanded him." Genesis 6:13-22
Are you confident that God is with you wherever you go? He will be if you are obedient to His commands. Moreover, you will know if you are not being obedient because you will experince His discipline. What form that takes varies widely but repentance is required to get you back on track. This is a word usually not spoken of in apostate churches.
Do you want times of refreshing from the Lord? If you do then repent.