We don't know the name of this young man who was out preaching the GOSPEL to people demonstrating during a George Floyd rally. An officer, Garren Hoskins saw the man sharing his Christian faith with the crowd. "As he was talking, he was quoting Bible verses. I'm personally a Christian and what he was saying is the same things I was raised on and what I believe. As he talked, I kind of talked back with him and carried on a casual conversation. There was a brief moment where he stopped and was just standing there. I felt an opportunity as a police officer and a person so I asked him, 'Would you like to pray?' He put his sign down, looked at me, and said, 'Absolutely'."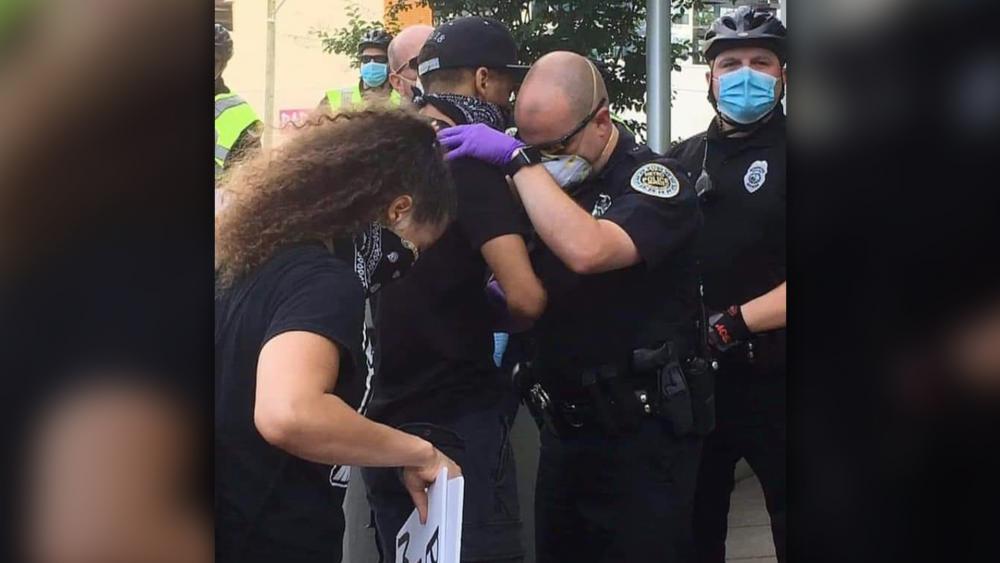 This image has gone viral and is being spoken about on the news across the country.
Officer Hoskins made the following observation: "Looking at myself and knowing that it was me there kind of touched me in a way – it's a really powerful image," the officer said. "At the same time, that gentleman was such a nice guy. I believe it created a solidarity there between him expressing his freedom of speech and me there as a police officer and that's something the world needs to see."
These two men were willing to be obedient to the leading of the Holy Spirit and God is using this one act of obedience to impact the lives of many. God uses tragedy, the sacrifice of George Floyd to bring the Gospel to many.