Plans were revealed for the construction of an interfaith complex that will house a church, synagogue, and mosque in the United Arab Emirates as part of an effort to promote religious harmony and bridge adherents of the three Abrahamic religions. The complex, known as the Abrahamic Family House, will be located on Saadiyat Island near Abu Dhabi.
The project is a result of Roman Catholic Pope Francis' papal visit to Abu Dhabi in February when the pontiff and the Grand Imam of al-Azhar in Egypt signed a declaration establishing the interfaith Higher Committee of Human Fraternity.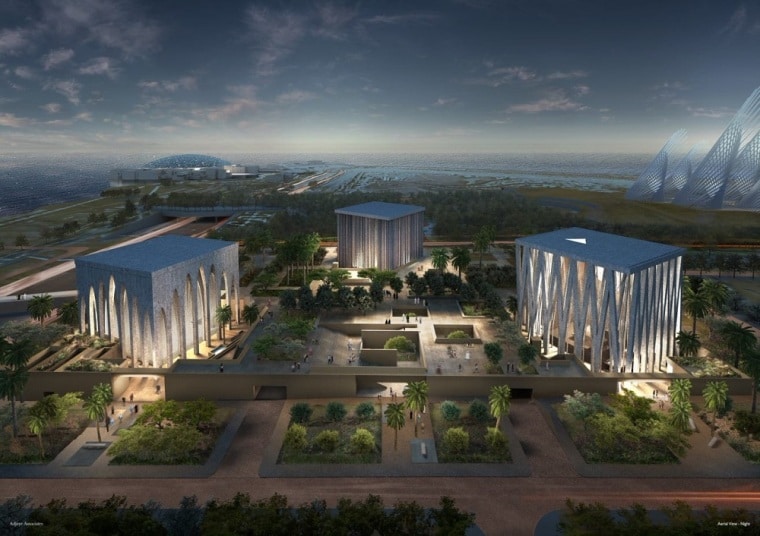 Members of the committee
The committee includes: Bishop Miguel Ángel Ayuso Guixot, President of the Pontifical Council for Interreligious Dialogue; Prof Mohamed Hussein Mahrasawi, President of Al-Azhar University; Monsignor Yoannis Lahzi Gaid, Personal Secretary of Pope Francis; Judge Mohamed Mahmoud Abdel Salam, Advisor to the Grand Imam; Mohamed Khalifa Al Mubarak, Chairman of the Department of Culture and Tourism – Abu Dhabi; Dr Sultan Faisal Al Rumaithi, Secretary-General of the Muslim Council of Elders; and Yasser Hareb Al Muhairi, Emirati writer and media personality, Rabbi M. Bruce Lustig of Washington Hebrew Congregation
The Abrahamic Family House is the first formal initiative of the higher committee. Plans by British architect David Adjaye were unveiled during the Celebration of Human Fraternity at a New York City public library on Sept. 20. In a statement, Adjaye declared that the Abrahamic Family House will be "open to the world." He expressed hope that it will serve as a space for people across society to "learn and engage in a mission of peaceful coexistence for generations to come.
Higher Committee member Rabbi M. Bruce Lustig of Washington Hebrew Congregation said in a statement that the new complex is an "important opportunity for all who believe in the power of faith and humanity."
"It will help build bridges between religious leaders and communities as well as foster peace and harmony in an era that is too often defined by difference," Lustig said. "I am honoured to be part of such an esteemed group working to champion love over hate, justice over injustice, and faith over fear."