This article is taken from the book by John Burton – The Coming Church. It only confirms what I have been saying for a number of years now. The traditional institutional church must change if it is to be used by God in the "last days".
"We need a church on fire today more than ever. The lost are being introduced into lukewarm, natural, Ichabod religion instead of a supernatural shaking that can only come from the Great I Am. They are convinced they are saved as they are assimilated into a community of like minded quasi-spiritual people who would love to see God manifest in their natural realm—yet have no interest in manifesting in the spiritual realm where the Holy Spirit broods.
My challenge to pastors is simple: Risk everything. Allow your church to dwindle, if necessary, to a few remnant people who will live, pray, walk and advance in the Spirit. The world is waiting for them. (Francis Chan is a living example of a pastor who has accepted the challenge.)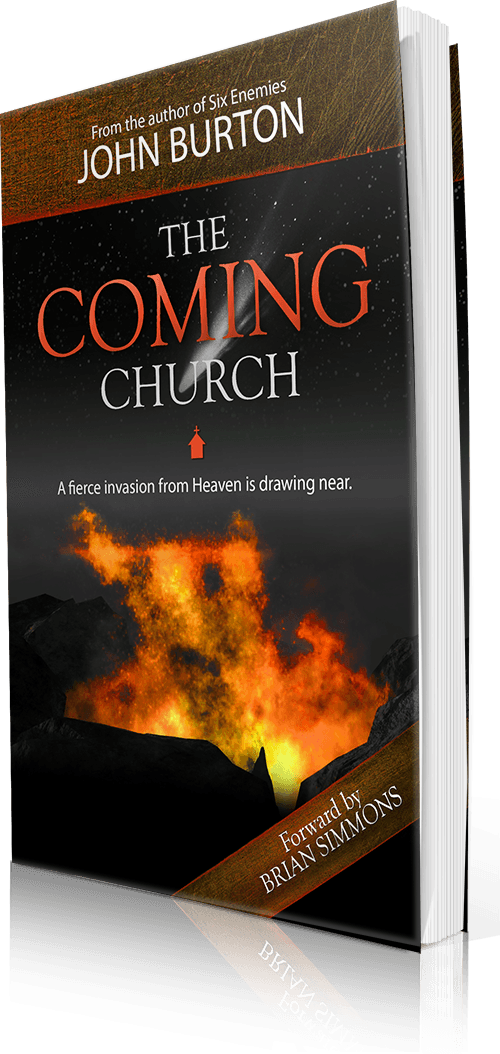 We soon won't be able to define going to church the way we do now. God is coming to reform, to crush structures of old for what is to be introduced very soon. Our call isn't to stand strong until the shift comes, it's to prophetically sound the alarm and awaken those at risk! God is coming! The force from Heaven, the celestial asteroid, is going to impact the Church, and most pastors and people will resist with everything that's within them. Man-made support systems will be removed. People's financial and relational structures will be threatened by this strange new spiritual invasion. The human wisdom and natural common sense that have been involved in the development of the current church structure will not be usable in the new. Those who walk by sight are in danger.
I've met countless pastors and others who say they are focused on revival, but who are misguided on exactly what it is. Their focus is on attracting people to the church, on people getting "saved" and on other church growth strategies.
The problem? The foundational pursuit of revival has nothing to do with church growth or the lost. It has everything to do with the church awakening, contending in intercession and attracting the fire of the Holy Spirit.
The lost didn't show up in the upper room. Marginal followers of Jesus were repelled by the upper room. Acts 2:1-3
Revival isn't marked by a full house. Revival starts in a room that reveals the remnant. The revival that erupted in that roomful of remnants resulted in explosive church growth and kingdom advance.
The pure Christian message of surrender, repentance, holiness, intercession and rescuing souls from hell has been replaced by a self-centred gospel that boldly affirms a focus on benefits without cost, on personal gain without sacrifice, on freedom without consecration. The Church has been unapologetically and boldly focused on how to have faith to receive while forsaking the call to have faith to give. The spirit of the age infiltrated churches long ago—and now, all too often, that demonic spirit is the primary counsellor."