Months after Lutheran pastor Nadia Bolz-Weber issued a call for Christian feminists to send her their old "purity" rings, the once-discarded jewellery has been completely transformed.
The purity rings ― symbols of an abstinence pledge ― were melted or pounded down and reshaped into a sculpture of a vulva emerging from a throne of flames.
Bolz-Weber, the progressive Christian theologian and writer behind the project, unveiled the sculpture on Thursday at the 2019 conference for Makers, a feminist media brand.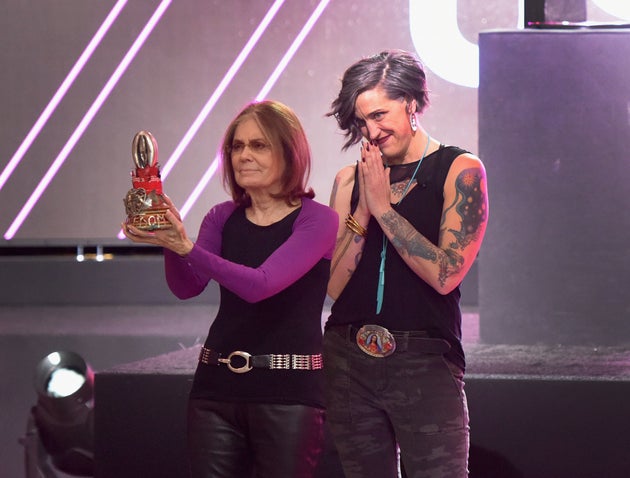 Bolz-Weber was the founding pastor of House for All Sinners and Saints, a queer-inclusive Lutheran congregation in Denver. Although she was raised in a fundamentalist Christian family, the pastor has become a prominent voice in progressive Christian circles.
The vulva sculpture project ― part of a promotion for Shameless, Bolz-Weber's recently published book about sex and Christianity ― sought to prove that symbols of a harmful and patriarchal theology can be reclaimed.
"It's actually part of the tradition, that we can take objects that have harmed us and turn them into objects that help heal and sustain us," the pastor said.
Not only is this melting down of jewellery eerily reminiscent of the Golden Calf episode in Exodus, it strangely looked very much like the Black Stone of Mecca supposedly the "holiest" (no pun intended), place in all of Islam.
If you look really closely at the hideous "Freedom" statue, the symbolism is frightful.  There is no "freedom" in it.  It mocks the Truth of scripture:
Now the Lord is the Spirit, and where the Spirit of the Lord is, there is freedom.  ~ 2 Corinthians 3:17
Apparently, the sculptress utilised a can from the Collins Street Bakery in Corsicana, Texas.  The name Collins means "dove" or a symbol of peace.  So far, so good, right?  But the name "Corsicana" is derived from the Island of Corsica which means SIREN SONG.  For those not familiar with Ancient Greek mythology, the Sirens attracted people with their sweet singing but only to entice them to their DEATH when they CRASHED ON THE ROCK.  These people are attempting to "bewitch" you to your doom.
Like a gold ring in a pig's snout is a beautiful woman who lacks discretion. Proverbs 11:22
"You also took the fine jewellery of gold and silver I had given you, and you made male idols with which to prostitute yourself."  Ezekiel 16:17
"You also played the harlot with the Assyrians, because you were insatiable; indeed you played the harlot with them and still were not satisfied." Ezekiel 16:28
I believe we are seeing Jesus' warning to the church in Revelation come true before our very eyes: 
"But I have this against you: You tolerate that woman Jezebel, who calls herself a prophetess. By her teaching she misleads My servants to be sexually immoral and to eat food sacrificed to idols." Revelation 2:20