ROME, September 13, 2019 (LifeSiteNews) — In a renewed and enthusiastic endorsement of globalism, Pope Francis has announced he is hosting an initiative for a "Global Pact" to create a "new humanism."
The global event, set to take place at the Vatican on May 14, 2020, is themed Reinventing the Global Educational Alliance.
According to a Vatican statement issued on Thursday, Sept. 12, the Pope is inviting representatives of the main religions, international organizations and various humanitarian institutions, as well as key figures from the world of politics, economics and academia, and prominent athletes, scientists and sociologists to sign a "Global Pact on Education" so as to "hand on to younger generations a united and fraternal common home."
Pope Francis referenced the "Document on Human Fraternity and World Peace for Living Together," which he signed with the Grand Imam of Al-Azhar in Abu Dhabi last February. Francis explained that in this new global village , the ground must be cleared of discrimination and fraternity must be allowed to flourish. We need to recall that this document stated that the "diversity of religions is willed by God".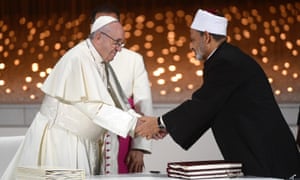 "Sadly, we know Pope Francis does not believe in the inerrancy of Scripture as he believes evolution is true and that Muslims, Jews and Christians all believe in the one God. His stance brings him into direct conflict with Jesus. Jesus said, "no one comes to the Father but by Me." and "For God did not send His Son into the world to condemn the world but that the world through Him might be saved. He who believes in Him is not condemned; but he who does not believe is condemned already, because he has not believed in the name of the only begotten Son of God." John 3:17-18
As I have stated before, I don't believe Pope Francis is a candidate for the coming Antichrist but he is a possible candidate for the False Prophet.