This post has been adapted from article "HOW TO WORK WITH ANGELS IN YOUR GOD-ASSIGNMENT" by Kris Vallotton | Feb 07, 2020 https://www.krisvallotton.com/
 God sends His angels to earth to effect change, whenever prophecies require events to be altered, things to be accomplished, or if heaven's resources need to be released over you, for your preparation, provision, and protection. Hebrews says that the angels are servants to the children of God:
"But to which of the angels has He ever said, "Sit at my right hand until I make Your enemies a footstool for Your feet?" Are they not all ministering spirits, sent out to render service for the sake of those who will inherit salvation?" (Hebrews 1:13-14)
Angels are mentioned more than 190 times in the New Testament alone. We've read about these celestial beings opening prison doors (Acts 12:7-10), delivering messages from God (Luke 1:5-38), and showing up in people's dreams (Genesis 31:11), but are angels among us today? Right now, going unseen, there are angels on assignment for people, young and old, in various roles and jobs; some angels are actively working within specific industries, over regions, and even assigned to entire countries. It is my personal conviction that God is still deploying angels on your behalf, and that they are eager and ready to supernaturally usher in heaven's resources for your preparation, provision, and protection.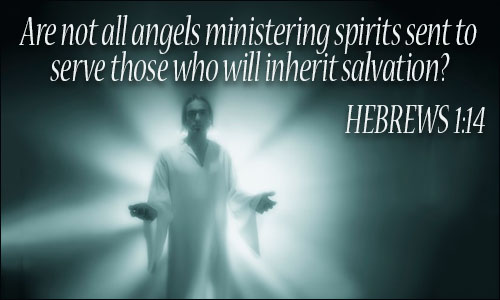 Testimonies are powerful and this one by Kris Vallotton, Senior Associate Leader of Bethel Church in Redding, California of how angels worked in getting Paul Schmidt to be the sheriff of Trinity County 1986-1998 is amazing.
"My friend Paul Schmidt and I were ministering at our local convalescent hospital early every Sunday morning. Paul was a strong believer, a body builder, and a deputy sheriff. One morning we were standing outside the hospital praying before we went in to minister. As we prayed I heard myself say aloud to Paul, "The Lord says that you are going to be the next sheriff of Trinity County!"
In the months that followed, Paul decided to run for sheriff and I became his campaign manager. We campaigned hard for months. The night of the primary election all the campaign workers went down to the courthouse to watch the Lord work through the election. We were hoping to cheer as we watched the election results come in but there would be no cheering that night, because Paul lost the primaries by a mile. Our entire team left the courthouse crushed and discouraged. I personally felt humiliated and guilty, thinking that I must have got the prophetic word wrong.
A few days later, very early on a Saturday morning, the phone rang. Half asleep, I answered the phone and a voice on the other end said, "Hey, I am going to run for sheriff as a write-in candidate! What do you think?" It was Paul, and I was in no mood for more humiliation. "I think you're crazy," I yelled into the phone. "You took fourth place when you were on the ballot. How would you have any kind of chance when people would have to remember to write you in? You're nuts!"
"God said I am supposed to be the next sheriff and I need to finish this race. Will you help me?" he pressed.
Paul did end up running as a write-in candidate and I continued being his manager. The week before the election we commissioned Paul as the next Sheriff of Trinity County at church.
I want to explain what I mean when I say that we commissioned Paul. To be commissioned means that you come into submission to the Father's mission; co-mission: a mission together with God. As a church, we gathered in agreement with the prophetic word that Paul would be the next sheriff of Trinity county, and we prayed over him, sending him out to fulfill the assignment that God had placed on his life. It's common to find throughout scripture and in our walk of faith today that physical acts of agreement often release spiritual realities.
On the day of the election, if Paul were to win, people would be required to write his name in on the ballot. We couldn't have any campaign signs anywhere within 1,000 feet of a polling place, so any last ditch campaigning efforts weren't an option. We simply had to wait and watch. After the vote was closed and when the news report finally came in, it read, "Paul Schmidt Wins Landslide Victory as a Write-In Candidate!" 
We were stunned! Over the next several weeks, strange stories began to emerge from our community. Many people who went into the booths to vote for another candidate ended up having crazy experiences. Some said they couldn't get the lever on the machine to pull down and punch the card for either of the sheriff candidates, so they decided to write Paul's name in. Others said that when they got into the booth, a voice spoke to them and said, "Write in Paul Schmidt!" Many had dreams the night before in which they were instructed to vote for Paul. Several citizens who came out with ads in the paper in support of one of the other candidates also had these experiences and changed their minds in the voting booth. These stories continued to emerge for months. Many of these people were not Christians. Paul became our sheriff and held the office for 16 years. The question is, what really happened on that election day? 
Much like the stories we read throughout the Bible, the Lord sent His angels to Trinity County to make sure the word that God spoke over Paul Schmidt would come to pass. Heaven invaded earth that day! One of the most common ways angels are commissioned is through prayer and prophecy. Angels perform the word of God that is proclaimed by the voice of the Lord. The Church is His voice that declares His word on earth. God's angels become the agents of change whenever prophecies require events to be altered, things to be accomplished, or wars to be won.
Imagine the angels that were at work to get Trump elected to President of the USA or for that matter Scott Morrison elected Prime Minister of Australia.