Turkish magazine calls for revival of CALIPHATE amid Hagia Sophia conversion. At the center of the accusation is the latest issue of the magazine, published on Monday, which features a cover stating: "Get together for caliphate. If not now, when? If not you, who?" An interview with Dilipak, a veteran Turkish conservative journalist, is one of the lead stories in the edition.
Ozer, the magazine's editor-in-chief, said critics of the story were misinterpreting it. "Our journal demands that the countries of Islam come together, just as Europe has come together and established a union, just as others have made similar ones. Our call has nothing to do with any country," he said.
The Caliphate cover story and the furor that followed comes on the back of Turkey's decision to convert the Hagia Sophia, one of its national treasures, back into a functioning mosque. Originally constructed as a Christian church, it was converted into an Islam house of worship after Constantinople fell to the Ottomans. Ataturk transformed the building into a museum in 1935.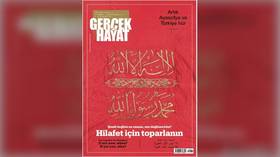 Biblical end times prophecy is centred on the Middle East with Israel at the centre. As mentioned in many previous posts, Turkey the Goat of Daniel 8, also plays a lead role as a revived Ottoman Empire which is eventually broken up into four nations out of which the Little Horn (Antichrist) arises. Biblical prophecy is the most significant proof that the Bible is God inspired and inerrant. Just as the Bible prophesied Jesus first coming in detail it also prophesies His second coming in even greater detail. Be encouraged.