Tony Abbott is a former prime minister of Australia. This is an edited extract of his contribution to Cancel Culture and the Left's Long March by Wilkinson Publishing which will be out in March 2021. His accurate summation of the spiritual condition of the world in the first paragraph was sufficient for me to bring it to your attention.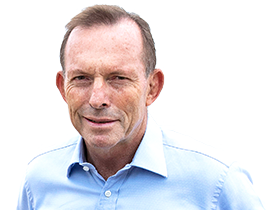 "My sense is that it's the seismic cultural shifts, now underway in the West, that have driven a pandemic response that's so different from that envisaged under plans drawn up even just a short time ago. We are materially rich but spiritually poor, and generally more fearful. More self-confident governments would not have placed so much faith in unelected and unaccountable experts. The experts would not have so readily changed their minds about the need for mandatory shutdowns. Societies that retained more "faith in the world to come" would have been less alarmed by a virus similar to those that have readily been seen off before.
Nine months on, with the virus much better understood and much less likely to kill, even here in Australia, it's still being treated like the grim reaper. More perspective on this virus, at least going forward, could help to dispel the climate of fear that, once created, is hard to shake, and that tends to bring out the authoritarian in officials and the conformist in citizens.
When state governments get away with imposing tougher restrictions on churches than on brothels and on religious services than on sporting events, keeping state borders closed for months longer than any health imperative could justify, requiring people on the street to produce their "papers" in order to avoid heavy fines, denying sick and dying people ready access to their families because of minute infection risk, failing to notice stormtrooper tactics against people in parks or in their own homes, and announcing draconian new restrictions based on impossible-to-question "expert advice" (that's invariably not released), public trust is unlikely to be sustained. Our sense of nationhood could take a long time to recover from the Queensland Premier's declaration that "Queensland hospitals are for Queenslanders"; or the West Australian Premier's refusal to allow Australians from other states to enter his, even with quarantine.
Always, it's the job of a thoughtful conservative to question and to doubt; to insist that new measures be justified, and proportionate, especially when the change goes counter to considered positions that conservative political movements have been supporting for decades. Of course, as Cicero once declared, "the people's safety is the highest law" but that hardly makes "safety first" the only principle or even the first principle that should guide government. Especially when the impact of action or inaction is speculative; and when not knowing the future makes it hard to decide what to do now; it's more important than ever not to overreact. Even if Australia's COVID toll remains low and there's a quick recovery from the policy-induced economic slump; even if an early vaccine means that Australia does not need to remain closed to the world, this is unlikely to be a time anyone recalls with much pride because so much that's happened has been out of character with an Australia accustomed "to strive, to seek, to find and not to yield".
For premiers much more on centrestage than usual; for health officials dictating the terms of daily life; and above all, for the scientists seeking COVID cures, these have been the most bracing of times. For most of us, though, there's been the dull prospect, not of doing more but of doing less: not "how much more can I do for my country" but "how much less must I do in order to be safe".
I can't think of a better way to kick off the new year than with a renewed emphasis on the active virtues and the robust attitudes that have made Australia a country to be proud of. Let's get back to being people who "have a go", so that 2020 turns out to be the only year in our history blighted by a focus on what we can't do, rather than what we can."
This extract of Tony's comment in the new book is insightful. It supports Scripture and its end-times predictions of the state of the world at that time.