During the Passover observance in 2019, 19-year-old John Earnest allegedly walked into a synagogue in Poway, California and opened fire, killing one worshipper and wounding three others. It was later revealed that Earnest was an active member of an Orthodox Presbyterian Church congregation and specifically believed that he was doing God's will by killing Jews.
The revelation that the lone suspect in the mass shooting was a devout Christian stirred reactions from many, including author and columnist Michael Brown, a proponent of Messianic Judaism and host of the nationally syndicated radio show, "The Line of Fire."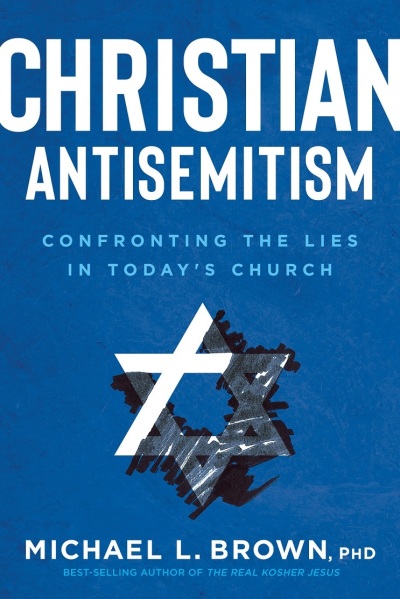 In his latest book, scheduled to be released Tuesday, Christian Antisemitism: Confronting the Lies in Today's Church, Brown documents a new resurgence of anti-Semitism within American churches.
Brown wrote about what he saw on social media from self-identified Christians and rhetoric espoused by modern Christian ministries and some theologians. "This is a book I wish I didn't have to write," Brown told the Christian Post in an interview.
"Sadly, there is a real rise in anti-Semitism in the church, even in America."
"I felt I had to write the book to demonstrate what was happening," he added. "The rising tide of anti-Semitism in the church today." This includes the rise of the heresy Replacement Theology, the notion that the Church has replaced Israel as the new chosen people, with God no longer having any plans for modern Jews.
Below are excerpts from a conversation Christian Post (CP) had with Brown about Christian anti-Semitism and its apparent growing strength.
CP: You have written about anti-Semitism in the Church before; notably the 1992 book Our Hands Are Stained With Blood. How does this book differ from your earlier works?
Brown: This book focuses on what's happening now. The earlier book, Our Hands Are Stained With Blood: The Tragic Story of the "Church" and the Jewish People,came out in 1992, remained in print continuously until 2019 when we put out a new updated edition of the book.
And in doing so, that was very jarring because I was confronted with what had grown in recent years and how some of the dangerous trends of the past were back today. So Christian Antisemitism, the new book, picks up where Our Hands Are Stained With Blood left off. It gets much more in-depth into the wrong theology behind it. It traces some of the current conspiracy theories in the Church today about the Jewish people. It gets much deeper into the contemporary issues that the first book touched on.
CP: You devoted a fair amount of attention to refuting replacement theology. How pervasive a problem do you believe replacement theology is in the American church? Do you see it as more prevalent in some denominations than others?
Brown: Yes, it's very prominent. It is certainly growing. It is very dangerous. It is more to be found in what would be called the mainstream denominations — so Presbyterian, Episcopalian, Methodist, etc. It is less found in Charismatic circles or in some aspects of evangelism. But the fact is it's there. It's certainly there in Catholic theology.
Those that hold to it don't like to be put in the category of holding to replacement theology. They would rather say they believe in "fulfillment theology" or put another name on it. But the end result is the same: the promises that God once gave to the Jewish people as a people no longer apply to them, but rather apply to the Church.
This website livingeternal.net is about preparing the church for the end times tribulation and the coming Millennial reign of Christ from a restructured Jerusalem. Jesus will rule the world on this earth with the resurrected saints. A literal, grammatical and historical view of the Bible makes this truth crystal clear. Israel will finally have fulfilled all of the O.T and N.T. prophecies of its Messiah ruling the nations from Jerusalem. The book by Michael Brown is obviously an important contribution to this cause.