Freedom March declares move of God among ex-LGBT people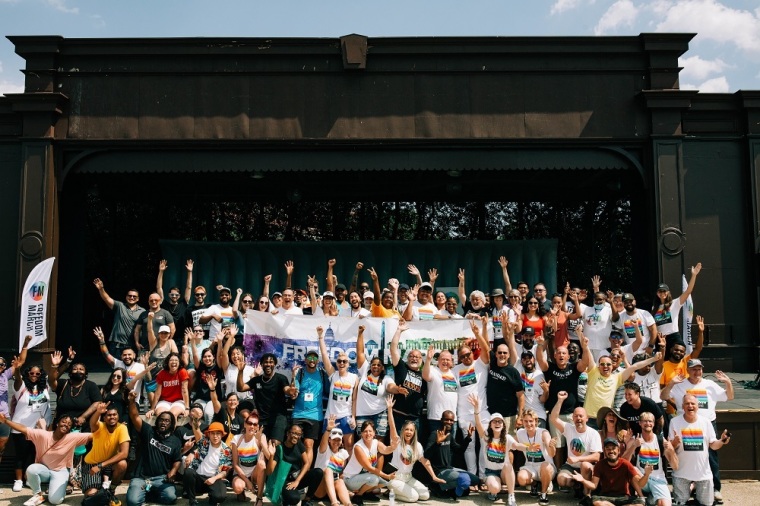 WASHINGTON — Men and women who once lived and identified as part of the LGBT community are confident that a "rainbow revival" is at hand.
Gathered under the blazing sun with temperatures in the mid-90s at the Sylvan Theater in the shadow of the Washington Monument, approximately 200 attended the Freedom March, an event for formerly LGBT-identifying people who share testimonies of how Jesus transformed their lives.
The gathering was first held in the same location in 2018. Last year's Freedom March was canceled due to the COVID-19 pandemic.
With many sporting T-shirts decorated with rainbow flags and the words "Rainbow Revival," march participants spoke with The Christian Post about the transforming power of Jesus.
Angel Colon, who miraculously survived after Omar Mateen shot him several times at the Pulse Nightclub mass shooting in Orlando in June 2016, said the "rainbow revival" is a sign of God's covenant. "We are taking back the rainbow," Colon said. "It's His. For us, it's something beautiful." "We are here and we're loud, letting the world know that the rainbow is something beautiful," he added. "And we shouldn't be ashamed of what it really is."
Colon and his compatriots are hearing from increasing numbers of people who desire to leave the LGBT life to follow Jesus, as Freedom March events have continued. He believes that the COVID-19 pandemic was a blessing in disguise because it forced many to go deep with the Lord. "Especially now during Pride month, we want to say we love you" to the LGBT community. We want to tell the gay community that we love them. We don't want to judge you or condemn you and welcome you with open arms and be a reflection of Jesus. We don't want to do anything but love everyone." Colon said.
Freedom March co-founder Jeffrey McCall told CP that he noticed an uptick in emails he received from people wishing to leave the LGBT life and identity behind last summer. "We are getting more emails, more people reaching out and wanting help than we've ever had in the past three years," he continued. He believes that the Church is at the beginning stage of reaching out effectively to LGBT individuals with the transformational power of life in Christ.
Kim Zember, who is Catholic and on the Freedom March's board of directors, shared with CP that the phrase "conversion therapy" is misleading. "It's not about 'converting' someone," Zember said. "When Jesus walked the earth, he didn't walk around converting people. He invited people to be transformed. And we're transformed in a relationship with Jesus Christ." He said, they are particularly concerned about efforts to limit counseling options for those experiencing conflicting or unwanted sexual feelings and impulses or gender confusion related to their faith. Faith-based approaches to help individuals deal with these unwanted attractions are often derisively referred to as "conversion therapy."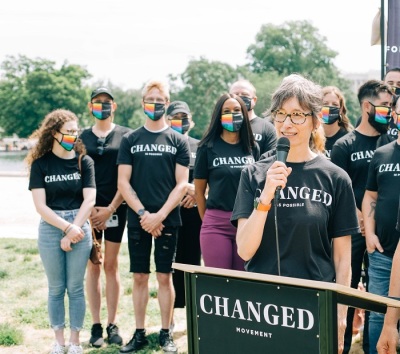 Elizabeth Woning of the CHANGED movement speaks outside the U.S. Capitol for a press conference on June 4, 2021
Taken from an article by Brandon Showalter, Christian Post Reporter