What was going through Jesus' mind as He prepared for His crucifixion?
He certainly was not anxious or fearful, look at His actions. He washes the disciples feet. Jesus was teaching His disciples how to serve others and how to be humble all the way until the very end.
"Jesus, knowing that the Father had given all things into his hands, and that he had come from God and was going back to God, rose from supper. He laid aside his outer garments, and taking a towel, tied it around his waist. Then he poured water into a basin and began to wash the disciples' feet and to wipe them with the towel that was wrapped around him." John 13:3-5
"The Son of Man did not come to be served, but to serve, and to give His life as a ransom for many." Mathew 20:28.
Then He calmly predicts His betrayal
"I am not speaking of all of you; I know whom I have chosen. But the Scripture will be fulfilled, He who ate my bread has lifted his heel against me.' I am telling you this now, before it takes place, that when it does take place you may believe that I am He." John 13:18-19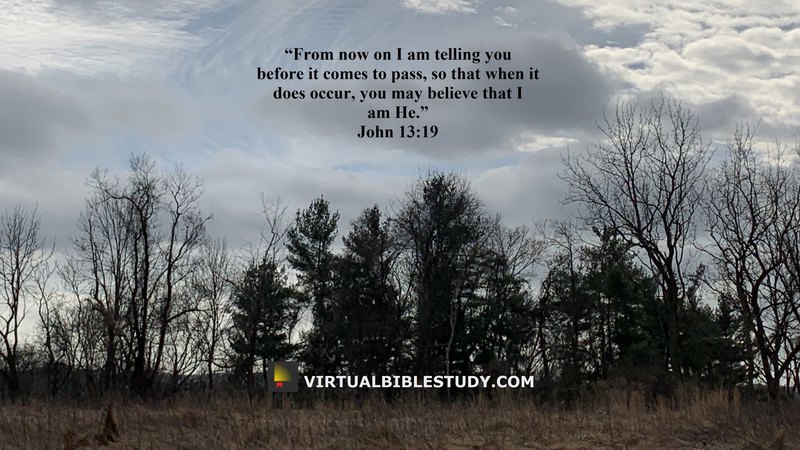 "Truly, truly, I say to you, one of you will betray me." John 13:21b The disciples in disbelief asked who?
"Jesus answered, "It is he to whom I will give this morsel of bread when I have dipped it." So when he had dipped the morsel, he gave it to Judas, the son of Simon Iscariot." John 13:26
This is just one of the many Bible prophecies Jesus gave the disciples so that they might believe that He is the Son of God. Look at the powerful message Jesus gave them in the following verses.
Let not your hearts be troubled, neither let them be afraid. You heard me say to you, I am going away, and I will come to you.' If you loved me, you would have rejoiced, because I am going to the Father, for the Father is greater than I. And now I have told you before it takes place, so that when it does take place you may believe. I will no longer talk much with you, for the ruler of this world is coming. He has no claim on me, but I do as the Father has commanded me, so that the world may know that I love the Father. Rise, let us go from here." John 14:27-31
Despite what Jesus told the disciples in advance in these verses, and having lived with Him for three years and seen all the miracles He performed, the Bible tells us that Peter still denied Jesus three times exactly as predicted and only John turned up to be with Jesus at His crucifixion.
The Bible reveals the truth, warts and all, about His followers and is just more evidence for us to believe it is the "Word of God" to be trusted, believed and obeyed.