Michael Brown and Craig Keener in their new book Not Afraid Of The Antichrist make a good case that the rapture and 2nd coming are not two separate events separated by years but a single event of hours (possible days) that transpires right at the end of this age and just before Christ's literal reign upon this earth. The authors certainly dispel the arguments made for a Pretribulation rapture. This is extremely important, Christians need to understand that in the "last days" they will experience tribulation even great tribulation. This is clearly prophesied by Jesus.
"Then they will deliver you up to tribulation and kill you, and you will be hated by all nations for My name's sake. And then many will be offended, will betray one another, and will hate one another. Then many false prophets will rise up and deceive many. And because lawlessness will abound, the love of many will grow cold. But he who endures to the end shall be saved." Matthew 24:9-13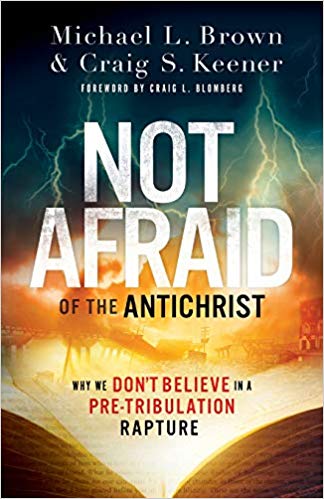 Followers of my blog, will know that I support the PreWrath Rapture position, which has the Rapture occurring at the trumpet blast at the seventh seal. The wrath of God is then poured out with the Trumpet and Bowl Judgements. This happens in the last year of the seventh year of Daniels 70 weeks prophecy. The saints will have a sabbath year (Shemitah) prior to coming back to earth with Jesus to liberate Israel prior to His Millennial reign.
Our major difference to Brown and Keener is we believe Jesus said His children will not experience the wrath of God. Brown and Keener do not differentiate between the Tribulation and the Wrath of God.
Christians will experience tribulation, even great tribulation and how we handle it will be a great witness to the world and bring many into the Kingdom. It will be a time of refining/testing and sadly many will fall away as Jesus prophesied.