In 2018, Free in Jesus Christ Church (FJCCA), Thailand brought in new Christians in numbers that would confound most projections, statisticians, and historical trends. In January, 2019 the group baptised 520 new Christians in an outdoor service in Chon Daen. It was the largest baptism national church leaders had ever seen, crowds waded chest-deep in a public reservoir with lush hills behind them.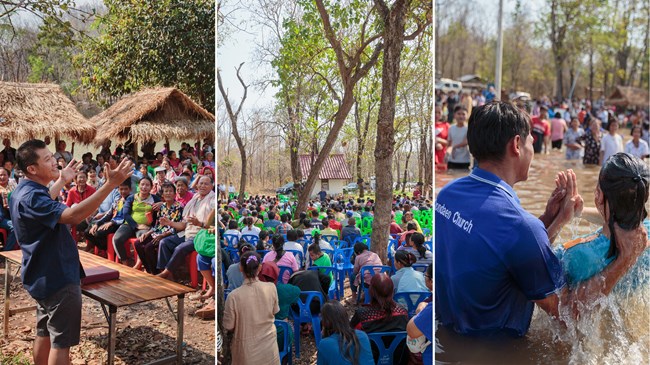 In village after village, Thai people who had never before heard the name Jesus responded by the dozens to follow him. In a single day last December, 309 people began following Christ as FJCCA teams visited four villages for the first time.
It's the fastest-growing church movement in the country's history.
Founding pastor Somsak Rinnasak, a motorcycle mechanic and garage owner, has no seminary background or formal theological training. FJCCA converts start house churches in as little as six months and go on to plant "mother churches" in as little as a year.
When the house church planters were asked: "Who taught you how to do this?" They didn't understand the question. After a pause, Khun Rajirot, Rinnasak's wife, responded, "We just read what Jesus and Paul did in the Gospels and Acts and do the same thing."
The FJCCA's church planting movement in Thailand represents a success story amid a shifting approach to global missions as Christians rely less on evangelism led by Western missionaries and instead trust the Spirit's work among their own people.
Put simply, "Thailand will be reached by the Thai." FJCCA now plants more churches in two weeks than more than 300 evangelical missionaries with the Evangelical Fellowship of Thailand do in an entire year.
Post taken from article in Christianity Today by Kate Shellnutt: Making Missions Count: How a Major Database Tracked Thailand's Church-Planting Revival