A new military incursion into Libya is part of a long-awaited dream by Turkish President Erdogan to return the Ottoman Caliphate, a global Islamic rule that subjugated Jews and Christians for six centuries. The Syrian Observatory for Human Rights (SOHR) reported on Monday that Turkish-backed Syrian mercenaries have begun arriving in Libya. The SOHR reported that a commander of the Turkish-backed Syrian troops en route to Libya announced as their battle cry, "We will present our souls for the Ottoman Caliphate."
The Ottoman Caliphate, known in the West as the Ottoman or Turkish Empire, was founded in the 13th Century and eventually controlled much of Southeast Europe, Western Asia, and North Africa. This control lasted for several hundred years and only truly ended after WWI when the empire was partitioned by the Allied Powers and the 101st and final Caliph, Sultan Abdulmecid II, was deposed and expelled.
At a summit of the Organisation of Islamic Cooperation (OIC) in Istanbul last year, Erdogan called on all of the 57 Muslim member nations to join together against Israel to avenge the deaths of Palestinians killed while charging the southern border with Gaza.
Previously, in 2015, Erdogan gave a speech commemorating 562 years since the Turks captured Constantinople (now known as Istanbul) from European Christians in which he called for the Muslim conquest of Jerusalem. "Conquest is Mecca, conquest is Saladin, it's to hoist the Islamic flag over Jerusalem again; conquest is the heritage of Mehmed II and conquest means forcing Turkey back on its feet," Erdogan said in the speech in Istanbul.
Approximately 2,400 troops are already in Tripoli while another 1,700 are currently undergoing training in Turkey. Activists informed the SOHR that Turkey intends to send a total of 6,000 troops to Libya.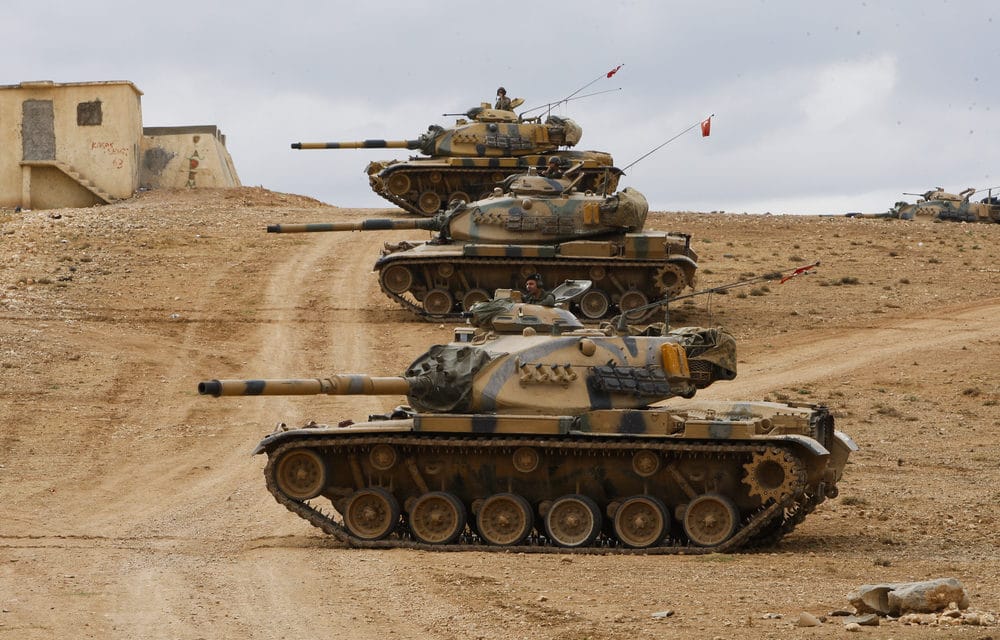 At the same time as Erdogan is aggressively moving to reestablish a Sunni Ottoman Empire (Goat of Daniel 8), Iran (Ram of Daniel 8), Shia is equally aggressively trying to establish its dominance in the Middle East pushing into Iraq and with its proxies Hezbollah in Lebanon and Hamas in Gaza, the PMF (Popular Mobilisation Forces) in Iraq, Houthi rebels in Yemen, and other small Shiite militias in Syria and other Middle Eastern Countries.
Scripture provides us with a picture of what is unfolding here: Daniel 8:4, tells us that initially the ram (Iran) will succeed in conquering east, west and north only to enrage the goat (Turkey) with its aspirations for a revived Ottoman Empire. The goat defeats/tramples the ram (Daniel 8:7). We then learn that because the revived Ottoman Empire/goat becomes too strong, it is broken up into four (EU or USA or Coalition as before?), "and out of one of them comes a little horn (Antichrist) which grew exceedingly great toward the south, toward the east, and toward the Glorious Land" (Daniel 8:9).
Christian should use these prophecies in evangelism. We know how "end times" event play out. There are far more prophecies about Jesus second coming than there were of His first coming. Jesus admonished the Pharisees "for not knowing the time of your visitation." Luke 19:44. I am sure He would likewise scold church leaders today for not warning His church of apostasy and coming escalating tribulation. Already, we see much of the church compromising with the world and discarding biblical truth on sexuality and marriage. Keep your eyes on the Middle East and you will see Biblical prophecy unfold.