Over 4,000 people were killed in Islamic extremist attacks in Burkina Faso, Niger and Mali in 2019, according to the U.N.'s envoy for West Africa and the Sahel Mohamed Ibn Chambas.
Since 2016, extremist groups including the Islamic State West Africa Province and Ansaroul Islam have carried out attacks throughout the Sahel region of West Africa. But attacks increased fivefold in 2019 — deaths rose from 80 in 2016 to 1,800 in 2019.
A Nigerian organisation claims that more than 350 Christians have been killed across the West African country since the start of 2020 and estimates that about 11,500 Christians have been killed since 2015.  "Nigeria has become a killing field of defenceless Christians," the non-governmental organisation, International Society for Civil Liberties and Rule of Law, Intersociety, said in a new special report."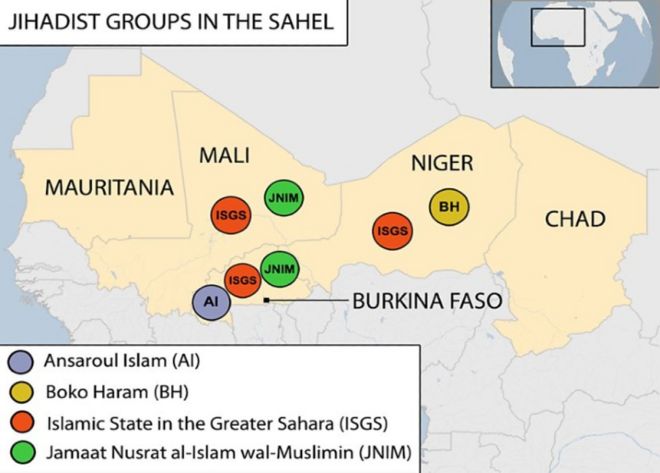 Jihadist violence has now spread from the country's north to the western Boucle du Mouhoun region where rice and maize are produced and transported to other areas, resulting in a food shortages and might cut off food for millions more in the region, according to the Associated Press.
It is feared that the COVID-19 pandemic might exacerbate the situation at a time when 2 million people in the country are already facing food insecurity.
"If production goes down in this area and if movement restrictions due to the coronavirus drive up food prices in the markets, it could push numbers of severely vulnerable people to double or triple," Julia Wanjiru, communications coordinator for the Sahel and West Africa Club, an intergovernmental economic group, was quoted as saying.
According to the U.N., the number of people displaced in Burkina Faso rose 1,200 percent in 2019. There are about 600,000 internally displaced people in the country as it is becoming one of the world's fastest-growing humanitarian crises.
Authorities in the Borno state of Nigeria said Wednesday that at least 81 people were killed in an attack on a nomadic community believed to have been carried out by militants aligned with the Islamic extremist groups Boko Haram or Islamic State West Africa Province.
Signs of the End of the Age
Jesus said, "And when you hear of wars and rumours of wars, do not be alarmed. This must take place, but the end is not yet. For nation will rise against nation, and kingdom against kingdom. There will be earthquakes in various places; there will be famines. These are but the beginning of the birth pains." Luke 13:7-8