Last November, Philip E Johnson, author of the best-selling book, Darwin on Trial, and other anti-evolution works, died at age 79. The Christian Post has since interviewed Intelligent Design proponents, as well as critics, to discuss Johnson's legacy and the current direction of the movement.
A longtime law professor at the University of California-Berkeley, Johnson was credited with helping to ignite the modern Intelligent Design movement through his books and debates.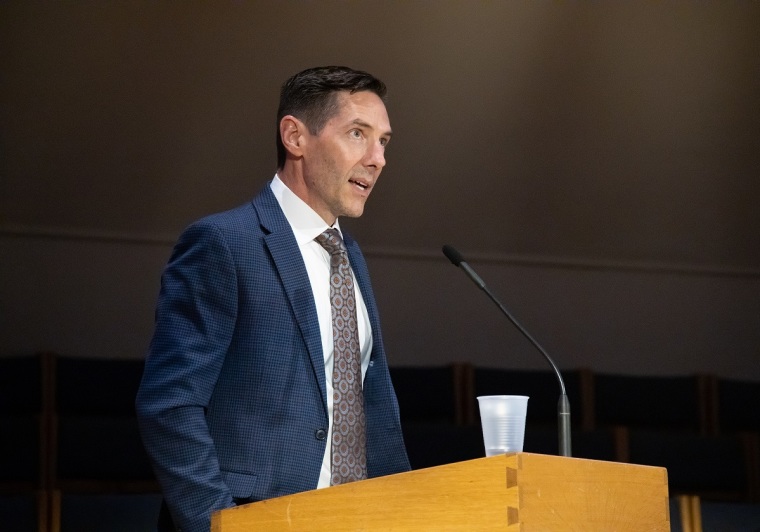 Douglas Axe, a professor of Molecular Biology at Biola University's School of Science, Technology and Health, told The Christian Post that Philip Johnson influenced his decision to join the movement.
"I've been suspicious of Darwinism as far back as I can remember, but it wasn't until I started connecting with other Darwin-skeptics that I was able to place my own thinking within the larger body of thought that became known as Intelligent Design," Axe recalled.
"Phillip Johnson was instrumental in this. I met Steve Meyer in 1990 and Bill Dembski in 1992 and then many others, including Mike Behe, at a meeting organized by Phil in 1993. It was at that point that I realized a movement was in the making."
Axe believed that the "first phase of research" within Intelligent Design was centered on "settling the question of whether life really is designed."
Considering that question basically resolved, Axe told CP that the "current phase of research is focused on developing a new design-centred way of thinking about biology."
"For example, former Google coder Dr. Winston Ewert recently published a peer-reviewed paper that provides striking evidence that genomes have been designed in a way that resembles how humans design software," he continued.
"Dr. Michael Egnor, Professor of Neurosurgery at State University of New York in Stony Brook, has just described with mathematical precision how engineering principles are used masterfully to smooth out the heartbeat pulse in order for the capillary flow in our brains to be smooth."
In an interview with CP, Egnor said he believes there is "abundant evidence for intelligent agency," labeling Intelligent Design "a valid inference."
"There is in nature very clear evidence for intelligent agency in some aspects of biology," he said. "The intricate nano-technology that exists inside cells, the clear evidence for purpose in cellular metabolism, in physiology, in multi-cellular organisms."
Egnor believed that, regardless of whether one believed in evolution, it was a challenge to do scientific research without presuming that there is design in nature.
"If you look for example at the genome, at the DNA inside a cell. You think of it as a computer program, as software. That helps you quite a bit in understanding how it works. If you didn't have that inference, it would be much harder to understand what the DNA is doing," Egnor continued.
"We really can't study the human heart unless you begin with the premise that it's a pump. If you begin with the premise that it's a pump, then the whole thing makes sense. The muscle in the heart and the valves, the chambers, all of it adds up. But the idea that it's a pump is a design inference."
Dr. Brian Thomas, research associate with the Institute for Creation Research, an organization that supports biblical creationism, told CP that he believes current scientific finds "bolster" Intelligent Design and creationism claims.
"Despite claims that the human genome is littered with useless evolutionary leftovers, geneticists keep confirming that almost all human DNA is used in one tissue or another at some point during growth and development," said Thomas.
"Genome usage and sophistication continue to boggle investigators' minds and baffle non-intelligent origins options. Even fossil discoveries keep confirming fully formed creatures at their lowest appearance."
Astrophysicist Hugh Ross of the Christian apologetics group Reasons to Believe explained in comments emailed to CP that he believes the movement is taking a "two-pronged approach."
One prong involved groups like Reasons to Believe developing an alternative creation model that could be tested while Johnson and groups like the Discovery Institute were devoted more to rebutting evolutionary claims and attempting to be inserted into public education.
"I'd have to say the ID prong is working well among Christians, though not especially well among skeptics, those within or influenced by secular academia," wrote Ross.
"The RTB prong has met with receptivity in the opposite areas. Despite some resistance within the evangelical community, our creation model and presentation of evidence for our Christian faith have opened doors in universities and beyond, especially among skeptics and doubters influenced by secular academia and media."
Ross added that he believes each of the prongs pursues "its mission wholeheartedly, and each is sustained by the generosity of those who care about their cause."
Silently growing?