Church growth in Nepal
In 1951, Nepal reported no Christians in its government census. And by 1961, that number increased to just 458. Today, the World Christian Database ranks the country as the 12th fastest-growing Christian population in the world with 1,285,200 believers, said database co-director Gina Zurlo. The real number might be higher.
Until 2008, Nepal was a Hindu kingdom. For Hindu radicals, being Nepali means being culturally Hindu, Pastor Tanka Subedi told CP. Subedi leads Nepal's Family of God Church and serves as director of the International Nepal Fellowship. Although most Hindus live in peace with Christians, he said some fiercely oppose the Gospel. "The prime minister himself says he doesn't believe in God but is Hindu," said Subedi. "State media and government officials [say] Christianity is coming to Nepal to destroy our culture. It's challenging to evangelize people who have that mindset."
The pressure and violence Christians experience from Hindus places the country at No. 34 on Open Doors USA's global persecution watch list.
Despite rising persecution, Christians continue to share their faith, Subedi said, because the government can't arrest them all. We come from a persecuted background. We were never free. We are used to it, he said.
People feel eager to become Christians because of the reality of the Christian faith and the healings, Subedi added.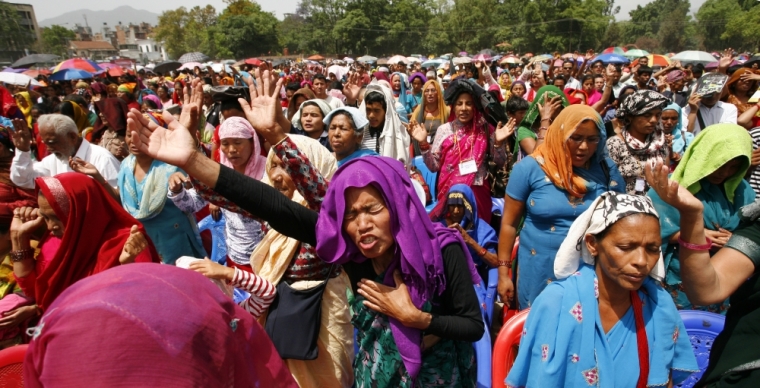 Suroj Shakya, a 41 year old church elder in Nepal told CP that he became a Christian at 8 years old after God healed him from food poisoning. When Suroj was 19, his mother Gita Shakya was diagnosed with a painful, paralyzing spinal growth. Doctors told Gita and Suroj, that her best option for healing was a risky, potentially lethal surgery, Suroj shared with The Christian Post. Surgery was expensive, and Gita's husband, Babukaji, a Buddhist priest, refused to pay his Christian wife's expenses. Doctors in Singapore gave 19-year-old Suroj two days to decide whether to let his mother live in terrible pain or risk her death.
Suroj prayed, then decided it was best to do the surgery. But he didn't know what he would tell his family if Gita died, he said. At that time, I felt so alone in Singapore because it was my first visit, and I had nobody to share my problems with besides talking with the Lord in prayer, he added.
Suroj heard a knock at the door. It was a group of local church members who wanted to pray for Gita. After 20 minutes of prayer, a miracle happened, he said. Gita stood up. She kicked out with her left foot, which hadn't moved for years. She punched out with her left arm. Suddenly, she could move. Gita started to weep and praise God, Suroj recalled. "There was no pain and sadness, which she had before. Her face was changed into joy and happiness," he said.
Afterward, Suroj said doctors didn't believe Gita was the same woman. Babukaji didn't believe his wife had been healed without surgery until he saw she had no scars. Then along with his son, Suman, he became a Christian.
Such stories happen often in Nepal, said Suroj. Despite persecution and poverty, the Nepalese church has grown incredibly quickly. The South Asian country has one of the fastest-growing Christian populations in the world. To secular Westerners, it might seem impossible. But the mountains of Nepal have witnessed incredibly fast church growth in part because of miraculous healings.
The church growth is because of miracles, Suroj asserted. "[If] people don't [get healed] from the hospital, they go to the church and ask for prayer from the church leaders. When the church family and church leaders pray for the sick people, they are getting healed."
I believe as persecution of Christians intensifies in the West the Christian remnant will be more like the church described in the Book of Acts. Healings and miracles will be normal and an important part of church growth just as it is in Nepal.