The Lord Jesus, the Master Designer and Programmer, ensured that the very definition of our sex is encoded onto every single one of our trillions of DNA-containing cells! I cannot imagine a more robust, fundamental way to 'hardcode' a static, immutable, unchangeable value, which could well be declared as a constant. This is in perfect harmony with Scripture's clear teaching of two sexes. Sex is determined by X and Y chromosomes contained in every cell in the body. Male XY and females XX.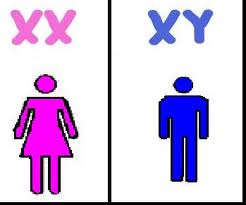 The many clear instructions in the Bible, given by our caring Creator, are motivated by love, by what is best for us. It is mandatory we follow our Creator's instructions. If we decide to rebel against the Creator's will in matters of marriage, sex, and gender definitions, we do it to our detriment. The Bible is the cutting-edge care instruction manual from the brilliant Super-Engineer to those of His beloved creatures created for fellowship with Him. Our every cell is in effect signed with 'designed in Heaven'.
The Bible teaches clearly on marriage and gender in Genesis 1:27: "So God created man in his own image … male and female he created them." Our Lord Jesus confirmed this (Matthew 19:4; Mark 10:6). He quoted Genesis 1:27, the creation of the first human couple, the ancestors of everyone else who ever lived. Thus, the original and flawless plan of our Creator is clearly for every human being to be either a male or a female.