In the days ahead we will need to take these words of Jesus' seriously:
"If anyone would come after me, he must deny himself and take up his cross and follow me. For whoever wants to save his life will lose it, but whoever loses his life for me and for the gospel will save it." Mark 8:34b-35
Agabus (one of several prophets who came from Jerusalem to Syrian Antioch where Paul was ministering) prophesied that, if Paul went to Jerusalem, he would be bound by the Jews there and handed over to the Gentiles. Paul's followers pleaded with Paul not to go up to Jerusalem. Paul's response;
"Why are you weeping and breaking my heart? I am ready not only to be bound, but also to die in Jerusalem for the name of the Lord Jesus." When he would not be dissuaded, we gave up and said, "The Lord's will be done." Acts 21:13-14
What a challenge this is to us. Even today, while we enjoy relative safety in our country, many brothers and sisters in Christ in countries under anti-Christian regimes are making the same decision as Paul, and they and their families are suffering intense persecution and deprivation as a result.
Who can forget this image?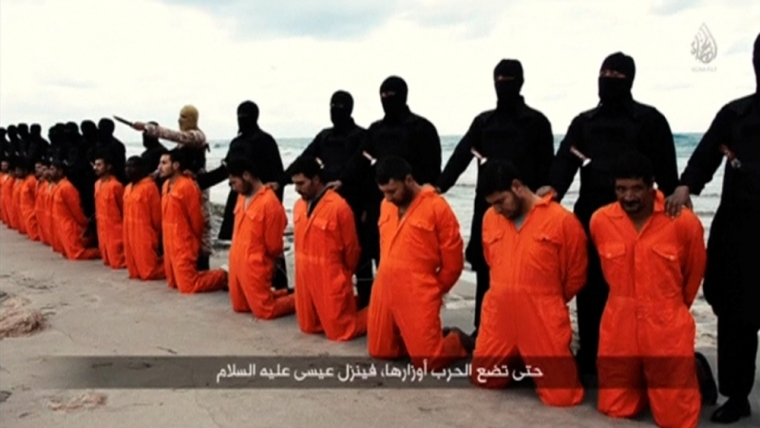 God has used the sacrifice of these twenty Coptic Christians and one Ghanaian for His purposes. The relatives of the Coptic Christian recently shared their pride in the men's refusal to deny Jesus and how the tragic deaths of their loved ones has strengthened the faith of the local community.
Three years after their relatives were murdered by ISIS in the infamous "A Message Signed With Blood to the Nation of the Cross" video, members of the Coptic community of Minya province, Upper Egypt, gathered for the inauguration of a new church, The Church of the Libyan Martyrs, dedicated to the memory of these men.
What a challenge this is to all of us. I am not sure how I would respond but I cling to the firm promise of Jesus that He will give me the courage when I need it.
"Whenever you are arrested and brought to trial, do not worry beforehand about what to say. Just say whatever is GIVEN YOU AT THE TIME, for it is not you speaking, but the HOLY SPIRIT." Mark 13:11