Päivi Räsänen, a Christian politician is facing six years in prison for sharing her biblical beliefs on sexuality and marriage. Finnish Bishop-elect Juhana Pohjola, who distributed a pamphlet written by Räsänen is facing a similar sentence.
"The actions of the Finnish State in prosecuting Christians for holding to the clear teaching of the very words of Jesus regarding marriage and sex (Matthew 19:4-6) are egregious (extraordinary in a bad way)," says the statement issued by the International Lutheran Council and joined by the bishops and presidents of dozens of Lutheran church bodies worldwide.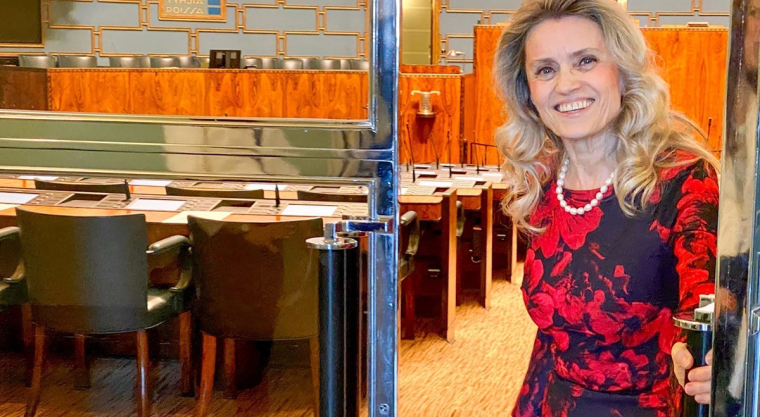 Päivi Räsänen, a member of the Evangelical Lutheran Church of Finland, could face up to six years in prison after being charged with three counts of ethnic agitation related to statements she made expressing her beliefs about human sexuality and marriage.
A longstanding member of the Finnish Parliament, Räsänen publicly voiced her opinion on marriage in a 2004 booklet on sexual ethics, describing marriage as between one man and one woman. She also expressed her views on a 2019 radio show and tweeted church leadership on the matter.
Pohjola, the bishop-elect of the Evangelical Lutheran Mission Diocese of Finland, has also been charged with one count of ethnic agitation for publishing Räsänen's booklet.
"… The accused clearly affirm the divinely given dignity, value, and human rights of all, including all who identify with the LGBTQ community," says the letter, titled "A Protest and Call for Free Religious Speech in Finland."
"We Lutherans make this strong confession along with Drs. Pohjola and Räsänen," it continues. "The vast majority of Christians in all nations, including Catholics and Eastern Orthodox, share these convictions. Would the Finnish Prosecutor General condemn us all? Moreover, shall the Finnish State risk governmental sanctions from other states based on the abuse of foundational human rights?"
Prosecutors determined that Räsänen's previous statements disparage and discriminate against LGBT individuals and foment intolerance and defamation. The mother of five maintains that her expressions are "legal and should not be censored."
"I cannot accept that voicing my religious beliefs could mean imprisonment," said Räsänen in a statement previously issued by ADF International, which is representing her. "I do not consider myself guilty of threatening, slandering or insulting anyone. My statements were all based on the Bible's teachings on marriage and sexuality."
What we see playing out here in Finland and most countries in the west including my own country Australia is prophesied to happen in the "last days" before Jesus returns to this earth to rule and reign from the nation, Israel, that God established for His purposes nearly 2000 years ago. Most of the O.T. prophets from Moses onward prophesied that their Messiah will rule over the nations. The Millennial reign of Jesus on this earth will fulfill these prophecies and the Abrahamic covenant. It completes the unfinished business God had with Israel and is a transitional period prior to the destruction of this earth, the second resurrection and the White Throne Judgement.
I say a transitional period because we know that Satan is bound for most of Jesus Millennial reign on this earth and yet we are told that Jesus and the resurrected Saints need to rule with a "rod of iron". (Rev. 2:27, 12:5, 19:15)
"Then I saw an angel coming down from heaven, holding in his hand the key to the bottomless pit and a great chain. And he seized the dragon, that ancient serpent, who is the devil and Satan, and bound him for a thousand years, and threw him into the pit, and shut it and sealed it over him, so that he might not deceive the nations any longer, until the thousand years were ended. After that he must be released for a little while." Revelation 20:1-3
Also, when Satan is released he is still able to raise an enormous army to wage a war against Jesus and the Saints.
"And when the thousand years are ended, Satan will be released from his prison and will come out to deceive the nations that are at the four corners of the earth, Gog and Magog, to gather them for battle; their number is like the sand of the sea. And they marched up over the broad plain of the earth and surrounded the camp of the saints and the beloved city, but fire came down from heaven and consumed them, and the devil who had deceived them was thrown into the lake of fire and sulphur where the beast and the false prophet were, and they will be tormented day and night forever and ever." Revelation 20:7-10
God is revealing to us the state of the human heart, Even though Satan is bound and Jesus and the glorified Saints are ruling and reigning on this earth, people will still reject God's values and rebel against His authority over them just as Satan and one third of the angels did at the beginning of creation. Read what God had to say about people living on earth prior to God's first judgement of the human race. Moreover, Jesus said that prior to the the wrath of God being poured out again they would be just like the people of Noah's day.
"The Lord saw that the wickedness of man was great in the earth, and that every intention of the thoughts of his heart was only evil continually." Genesis 6:5