Famine in Yemen
The famine in Yemen in the spring of 2017 is threatening over 7 million[1] people; over 3.3 million children and pregnant or lactating women suffer from acute malnutrition.[2] Over 100,000 affected children are in Al Hudaydah Governorate with the city of Al Hudaydah worst affected area of the province.[3] According to the Norwegian Refugee Council the famine in Yemen will soon reach "biblical proportions".[4]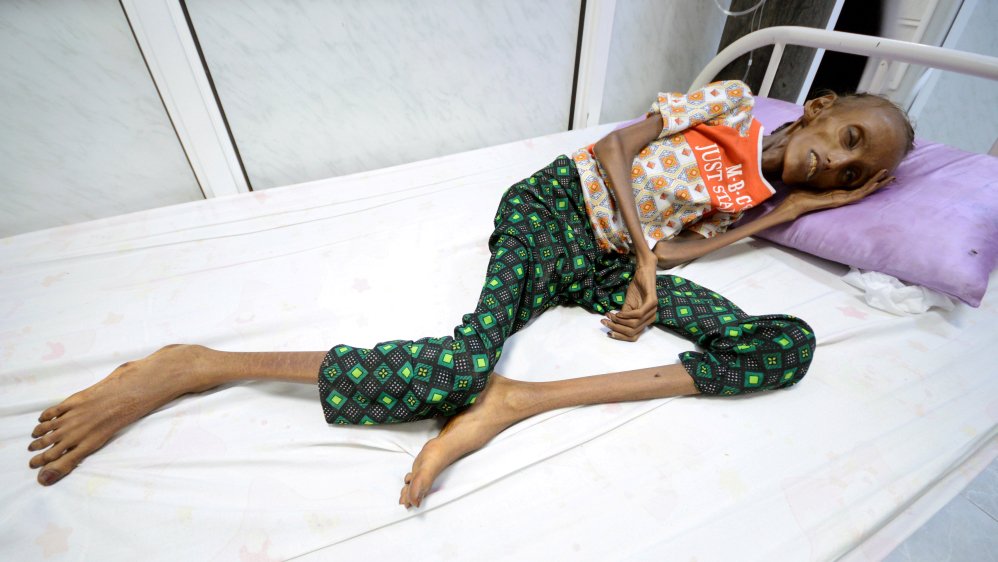 The famine is being compounded by an outbreak of cholera which is causing 5000 new cases daily.[5]
"It will be the largest famine the world has seen in many decades, with millions of victims." Al Jazeera English
Yemen facing massive famine, says @UN chief
Not just Yemen, the world faces the largest humanitarian crisis since the United Nations was founded in 1945 with more than 20 million people in four countries at risk of starvation and famine, the UN humanitarian chief has said.
Stephen O'Brien told the UN Security Council on Friday that "without collective and coordinated global efforts, people will simply starve to death" and "many more will suffer and die from disease".
He urged an immediate injection of funds for Yemen, South Sudan, Somalia and northeast Nigeria plus safe and unimpeded access for humanitarian aid "to avert a catastrophe".
Signs Jesus gave of His second coming in the Olivet Discourse
1. DECEPTION BY FALSE MESSIAHS.
2. BLOODSHED, WARS & CHAOS.
3. FAMINE AND ECONOMIC COLLAPSE.
4. ABOMINATION AND DEATH
5. MARTYRDOM AND APOSTASY.
6. CELESTIAL SIGNS
7. JESUS RETURN IN THE CLOUDS WITH ANGELS.
What about ECONOMIC collapse? 
Article in the Financial Post:
Eight signs a global market crash is imminent as central banks lose control
LONDON – When the banking crisis crippled global markets seven years ago, central bankers stepped in as lenders of last resort. Profligate private-sector loans were moved on to the public-sector balance sheet and vast money-printing gave the global economy room to heal.
Time is now rapidly running out. From China to Brazil, the central banks have lost control and at the same time the global economy is grinding to a halt. It is only a matter of time before stock markets collapse under the weight of their lofty expectations and record valuations.
1. CHINESE SLOWDOWN:
2. COMMODITY COLLAPSE:
The China slowdown has sent shock waves through commodity markets. The Bloomberg Global Commodity index, which tracks the prices of 22 commodities, fell to levels last seen at the beginning of this century.
3. RESOURCE PRICE CRISIS:
Billions of dollars in loans were raised on global capital markets to fund new mines and oil exploration that was only ever profitable at previous elevated prices.
4. DOMINOES FALLING:
The great props to the world economy are now beginning to fall. China is going into reverse. And the emerging markets that consumed so many of our products are crippled by currency devaluation. The famed Brics of Brazil, Russia, India, China and South Africa, to whom the West was supposed to pass on the torch of economic growth, are in varying states of disarray.
5. CREDIT ROLLOVER:
As central banks run out of silver bullets then, credit markets are desperately seeking to reprice risk.
6. INTEREST RATE SHOCK:
Interest rates have been held at emergency lows in the UK and US for around six years. The U.S. is expected to move first, with rates starting to rise from today's 0 to 0.25 per cent around the end of the year. Investors have already starting buying dollars in anticipation of a strengthening U.S. currency. U.K. rate rises are expected to follow shortly after. Borrowers have not factored in an interest rate rise and will be caught out.
7. BULL MARKET RECORD:
The U.K. stock market is in its 77th month of a bull market, which began in March 2009. On only two other occasions in history has the market risen for longer. One is in the lead-up to the Great Crash in 1929 and the other before the bursting of the dotcom bubble in the early 2000s.
8. OVERVALUED U.S.
U.K. markets have been a beneficiary of the huge balance-sheet expansion in the U.S. US monetary base, a measure of notes and coins in circulation plus reserves held at the central bank, has more than quadrupled from around US$800 billion to more than US$4 trillion since 2008. The stock market has been a direct beneficiary of this money and will struggle now that QE3 has ended. In the U.S., Professor Robert Shiller's cyclically adjusted price earnings ratio — or Shiller CAPE — for the S&P 500 stands at 27.2, some 64 per cent above its historic average of 16.6. On only three occasions since 1882 has it been higher — in 1929, 2000 and 2007.