A historic desert locust infestation in East Africa could cause the next major famine as people in the region are already struggling with hunger after droughts were followed by cyclone flooding, one of the world's leading evangelical charities has warned. 
God tells us that He commands the locusts to devour the land and why. He also tells us what we need to do resolve the problem.
"When I shut up heaven and there is no rain, or command the locusts to devour the land, or send pestilence among My people, if My people who are called by My name will humble themselves, and pray and seek My face, and turn from their wicked ways, then I will hear from heaven, and will forgive their sin and heal their land." 2 Chronicles 7:13-14
When the disciples asked Jesus, "what will be the sign of Your coming, and of the end of the age?" Jesus answer included; "And there will be famines, pestilences, and earthquakes in various places."
A growing spread of city-sized swarms of locusts has reached seven East African countries in recent months. The invasion has been described as something similar to an account from the book of Exodus as the grasshoppers have torn through crops, grass and other green vegetation.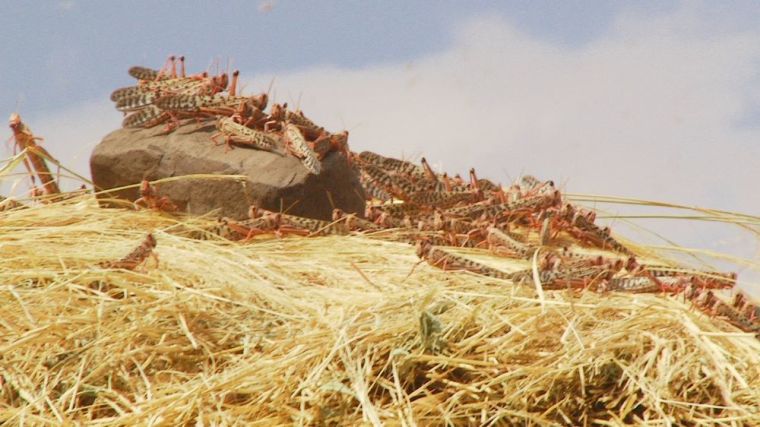 Experts say the crisis might be the result of exceptionally wet weather from rare cyclones that hit the Arabian Peninsula and East Africa in December. The crisis is expected to grow as locusts are breeding and migrating. Additionally, drier weather could lead to an exponential increase in the number of locusts in the region.
The U.N. has warned that the outbreak has already damaged tens of thousands of hectares of cropland across the Greater Horn of Africa, signifying the worst locust outbreak in Kenya in over 70 years and the worst outbreaks in Ethiopia and Somalia in 25 years.
According to the U.N., one swarm can eat as much in vegetation as 35,000 humans.
The biggest worry, Joseph Kamara, World Vision's regional director for humanitarian and emergency affairs in East Africa, said, is if the crisis is not controlled by the time cropping season rolls around. He stressed that the region is already facing food deficits after many crops were destroyed by flooding last year.
"So if we haven't controlled them, then the region is facing famine, not just a food crisis, but a potential famine," he stressed.