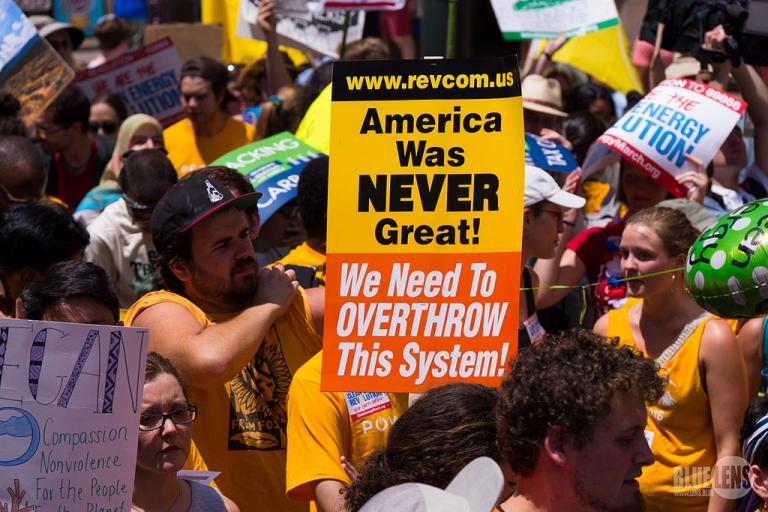 The US educational system has replaced the teaching of American history with anti-American propaganda, a trend in the universities that has trickled down into high schools and elementary schools. Some schools ignore history and civics altogether, leaving students ignorant of their Christian heritage and thus susceptible to the propagandists. In addition, the teaching of evolution and not creation/intelligent design has resulted in this generation turning away from God and His values. He is no longer relevant. However, Satan's original deception of Eve is still relevant :
"Then the serpent said to the woman, "You will not surely die. For God knows that in the day you eat of it your eyes will be opened, and you will be like God, knowing good and evil." Genesis 3:4-5
The first statement was certainly a lie and the second equally disastrous; believing she can be like God.
The VOC poll (Voice of the Customer Survey). . . found that only 57 percent of millennial's believe the Declaration of Independence "better guarantees freedom and equality" than the Communist Manifesto. . . .
It is the reason Bernie Sanders with his socialist agenda is so popular with this generation.
Executive editor of the Federalist (and LCMS member) Joy Pullman suggests that as this generation that loved their country through World War II and the Baby Boomers who lived through the Cold War die out, the proportion of Americans who disapprove of their own country and what it stands for will increase.  At some point, the nation might become so delegitimatised in the eyes of its citizens that it dissolves.  This is what happened to the Soviet Union.  A new nation would be established in its place, with the Constitution being repealed and a different kind of government devised to replace it.  Since free, democratic republics are rare in human history, the new American order would probably be a reversion to some kind of authoritarianism or totalitarianism.
For Christians Jesus end times prophecies are beginning to unfold:
"Then they will deliver you up to tribulation and kill you, and you will be hated by all nations for My name's sake. And then many will be offended, will betray one another, and will hate one another. Then many false prophets will rise up and deceive many. And because lawlessness will abound, the love of many will grow cold. But he who endures to the end shall be saved." Matthew 24:9-13