Millions of locusts continue to wreak havoc across East Africa and the Middle East in scenes described as "apocalyptic" Reports indicate that Swarms of the insects have descended on Oman with footage showing what looks like the floor moving after millions of the locusts started crawling across the streets.
Billions of locusts have ravaged crops in Kenya, Somalia and Ethiopia in recent months – leading to food shortages in countries that already suffer severe poverty.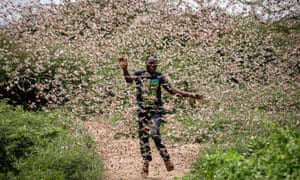 Warm weather conditions have reportedly contributed to one of the largest plagues in history and the UN's Food and Agriculture Organisation (FAO) has requested $120 million to help fight the threat.
It is reported the coronavirus pandemic is hindering the response with the delivery of pesticides and equipment being delayed.
Prior to going to The Cross, Jesus told His disciples what would unfold before the end of this age and His coming again to this earth to rule and reign for 1000 years.
"And there will be famines, pestilences, and earthquakes in various places. All these are the beginning of sorrows. Then they will deliver you up to tribulation and kill you, and you will be hated by all nations for My name's sake. And then many will be offended, will betray one another, and will hate one another. Then many false prophets will rise up and deceive many. And because lawlessness will abound, the love of many will grow cold. But he who endures to the end shall be saved. And this gospel of the kingdom will be preached in all the world as a witness to all the nations, and then the end will come." Matthew 24:7-14