Sen. James Lankford (R-OK) delivered an impassioned speech on the Senate floor on Wednesday to ask a simple question: Is that a baby?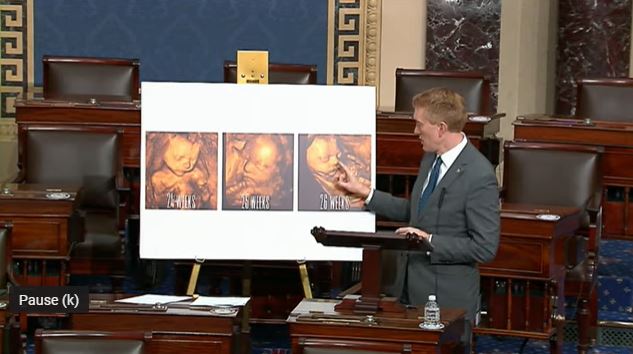 "That face, that nose, those two eyes, that mouth, that chin, those fingers—is that a baby? That's really the only question," the Senator explained while pointing to a series of images set up on the Senate floor. He also shared his "shock" at some of the work the current nominee to lead the Department of Health and Human Services, Xavier Becerra, has done to actually promote and allow abortions of the most vulnerable humans among us. Lankford's speech comes ahead of the annual virtual March for Life this week. Lankford said America can no longer ignore the question of whether a child in the womb is in fact a human baby.
President Biden's nomination for the Secretary of Health and Human Services has actually no health care experience at all. Sen. Lankford said, "It's surprising to a lot of us when we saw it because we are used to seeing the leader of Health and Human Services be a physician or scientist. Which would make sense in the time of enormous global pandemic to have a physician leading health and human services, but he actually nominated someone that his biggest qualification is he is one of the most radical advocates for abortion in the country. He did as a House member. He did as an attorney general in California.
President Biden this week celebrated the passage of Roe v. Wade by declaring that he wants to pass a federal law requiring abortion to be provided in every single state in America. Not just trust a court decision from 1973. Lankford said, "He wants us to proactively require in statute that every state demands abortion in their state. And that the federal taxpayers with hard-earned tax dollars should actually be required to pay for those abortions all over America. It wasn't long ago that Senator Biden was saying things like 'taxpayers shouldn't be required to pay for abortion. They shouldn't be required to pay for something that they find so morally objectionable.' It wasn't that long ago, Senator Biden was talking about abortion being safe, legal, and rare. Now as president, within the first week, he's moving as fast as he can to promote abortion and demand taxpayers pay for it."
It is now evident that Joe Biden's call for unity in his inauguration speech was a sham as he puts contentious policies into action through executive order.