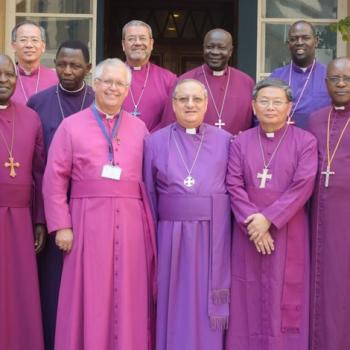 BAD NEWS
Neo-pagan Anglicanism is beautifully packaged in some of the most elegant liturgy, music, and tradition in Christianity. But it has become liturgy for the sake of liturgy, music for the sake of music, and tradition for the sake of tradition. As the apostle Paul wrote, they are "having the appearance of godliness, but denying its power" (2 Timothy 3:5). And as Athanasius argued against Arius's heresy, the Jesus whom they promote is not the Jesus of which the Bible speaks.
As a result of this tragic accommodation to culture, Foley Beach, Archbishop of the Anglican Church in North America, eschews the flaccid slogans of the hierarchy from Canterbury and New York City about "communion across difference," "mutual flourishing," and "walking together" because there can be no truce with heretics and schismatics who advance a counterfeit gospel (Romans 16:17–18).
Speaking with a prophetic mantle, Beach observes that "liberal innovations in theology and sexual ethics" are hidden within an orthodox façade, comparable, I would say, to the Trojan horse."
GOOD NEWS
Fruitful death
The Gospel of John probably best describes the future of orthodox Anglicanism.
"Verily, verily, I say unto you, except a corn of wheat fall into the ground and die, it abideth alone: but if it dies, it bringeth forth much fruit" John 12:24, KJV
"The 'Anglican experiment is not ending in failure," says Eliud Wabukala from Kenya and Mouneer Anis from Egypt, "but is on the verge of a new and truly global future in which the original vision of the Reformers can be realized as never before." When Archbishop of Canterbury Lord George Carey said in 1990, "You don't have to be English to be Anglican," he probably could not have foreseen that today, "Anglicans in the Global South represent more than 80 percent of the members of the Anglican Communion," according to Anis.
From Wabukala's address to the faithful of the Global Fellowship of Confessing Anglicans "At the heart of our gathering will be the Lord Jesus' Great Commission to make disciples of all nations (Matthew 28:19) and as we commit ourselves wholeheartedly to that purpose, we can trust in the promise that comes with the command, the promise of His presence 'to the end of the age' (Matthew 28:20).
Much of the information in this article has been extracted from the book The Future of Orthodox Anglicanism by Gerald R. McDermott