Man's attempts to glorify himself
The Burj Khalifa, this skyscraper is just over half a mile in height, making it the tallest building ever constructed. A reminder of the Tower of Babel. "Come, let us build ourselves a city and a tower with its top in the heavens, and let us make a name for ourselves," Genesis 11:4
The Burj Al Arab hotel boasts having the highest tennis court in the world, but you have to make sure to keep the ball in the court…otherwise, you'll never get it back!
Tallest building in the world
Tallest free-standing structure in the world
Highest number of stories in the world
Highest occupied floor in the world
Highest outdoor observation deck in the world
Elevator with the longest travel distance in the world
Tallest service elevator in the world
WHAT YOU WILL SEE IN THE MILLENNIAL KINGDOM OF GOD
The wise use of technology such as Nuclear Fusion for the production of power. Nuclear fusion is the process of taking two separate nuclei and combining them to form a different nucleus. Here's a very easy way to think about it: Nuclear fusion is what generates energy that is emitted from the sun.
In agriculture, we might well see the production of food using the latest technology. This is already happening in places like Israel and the two projects shown here.
Green architecture: growing food in high-rise buildings close to where it will be consumed so it is fresh. This picture is of Singapore Vertical Farms Using the latest drip technology.
This vertical farming system, called "A-Go-Gro" technology, grows vegetables in A-shaped towers, each of six meters tall. These modular A-frames are quick to install and easy to maintain. Each tower consists of 22 to 26 tiers of growing troughs, which are rotated around the aluminium tower frame at a rate of 1mm per second to ensure uniform distribution of sunlight, good airflow, and irrigation for all the plants. The plants don't get overstressed under the sun… at the same time they can get nutrients in the water equally.
This farming system generates significantly higher yields than traditional growing methods — they are safe, of high quality, fresh, and delicious. Large varieties of tropical vegetables are grown, such as Chinese cabbage, spinach, lettuce, Xia bai Cai, Bayam, Kang kong, Cai Xin, Gai lan, Nai bai, etc.
The vertical farming system is housed in a protected environment of PVC roofing and netted walls to enable the cultivation of tropical leafy vegetables under natural sunlight, all year round. All these efficiencies ensure that production costs are kept low. Operational costs include raw materials like soil and seed and electricity to pump the water driving the structures. The rotation system does not need an electrical generator. It is powered by a unique gravity-aided water-pulley system that uses only one litre of water, which is collected in a rainwater-fed overhead reservoir. This method also boasts a very low carbon footprint as the energy needed to power one A-frame is the equivalent of illuminating just one 60-watt light bulb. The water powering the frames is recycled and filtered before returning to the plants. All organic waste on the farm is composted and reused.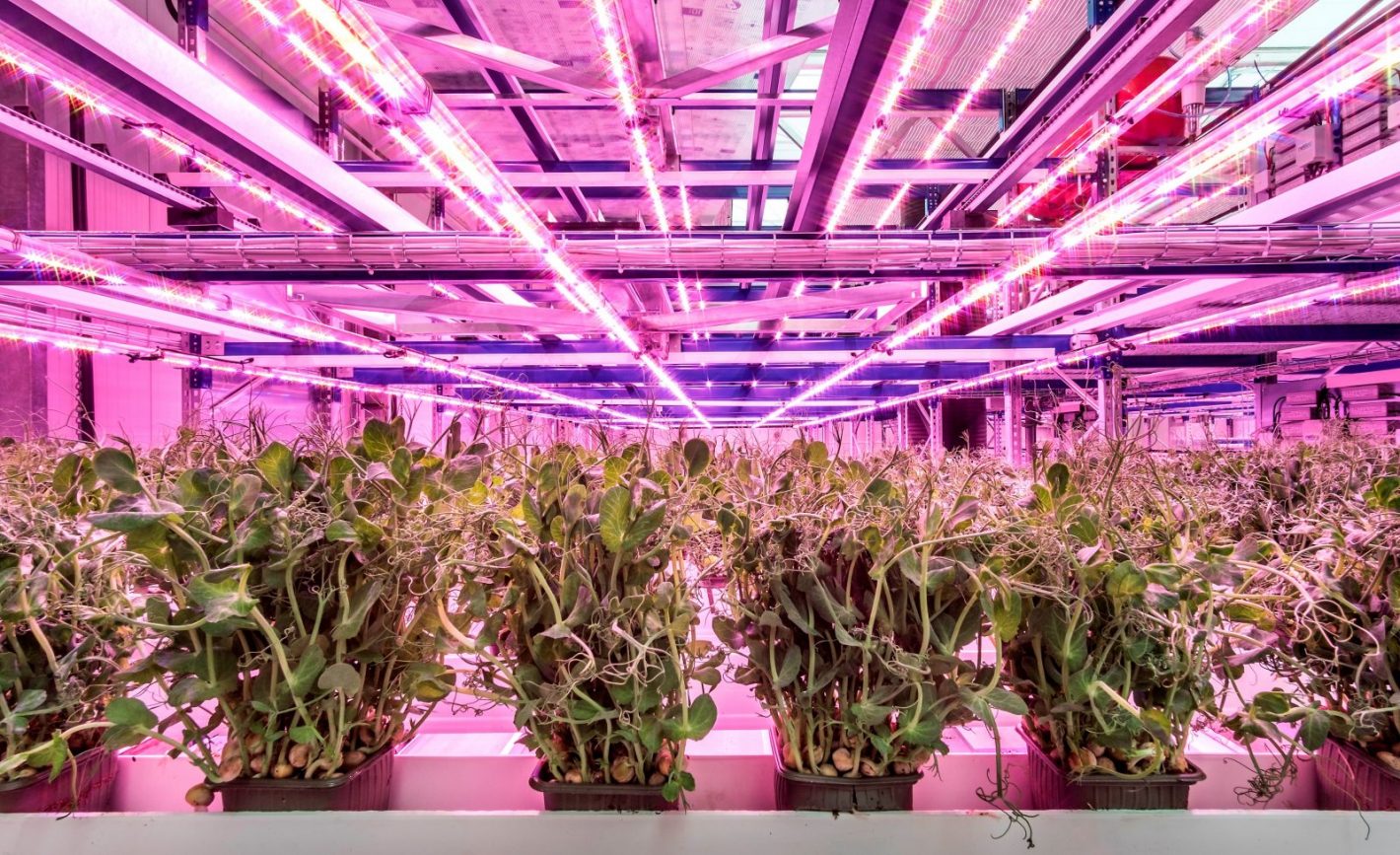 Robbe's Little Garden is a Finnish greenhouse construction company specializing in hybrid greenhouse-vertical farming solutions, its first hybrid farm having been built in 2015 and including 500-square meters of growing space. Two years later, Robbe's Little Garden built a four-layered vertical farm with a footprint of 4,400 square meters. Now, the company is working on its largest hybrid farm to date, which will be built in 2022 and span 11,000 square meters. The farm will produce arugula, spinach, and baby leaf greens to reduce Finland's reliance on field-grown products imported from southern Europe. The hybrid system has a polycarbonate roof. However, it's a completely controlled environment that will allow Robbe's Little Garden to fully adapt to Finland drastic seasonal variations. The system will also be equipped with 500 kW of solar panels to power the farm's LED lighting and cooling system during the summertime. Our products are going to be crazy fresh compared to imported products," says Robert Jordas, owner of Robbe's Little Garden. "We're talking about minutes or a few hours after harvest, as compared to days or weeks for imported products."
In the 11,000-square meter facility, Robbe's Little Garden will only need two people for the production/growing area and five people in the packing area thanks to a fully automated system. This, as Robert explains, will help to keep the farm competitive within Finland but also prove its potential for other countries as well.
In Finland, vertical farming is already well established for the production of herbs and lettuce. By combining highly efficient technology with the market demand for local arugula, spinach, and baby leaf lettuce, Robbe's Little Garden is pushing closer to Finnish food security every day.