NEW YORK — Weeks after it was first displayed on the Visitors Plaza outside the United Nations headquarters in November, the controversial "Guardian for International Peace and Security" sculpture many Christians likened to a biblical "End Times beast" is now gone.
Initial reports to The Christian Post suggested that the sculpture was removed from the Visitor's Plaza in late December due to complaints from the public. Stéphane Dujarric, the spokesman for the secretary-general, explained, however, that the display was temporary and was removed as scheduled.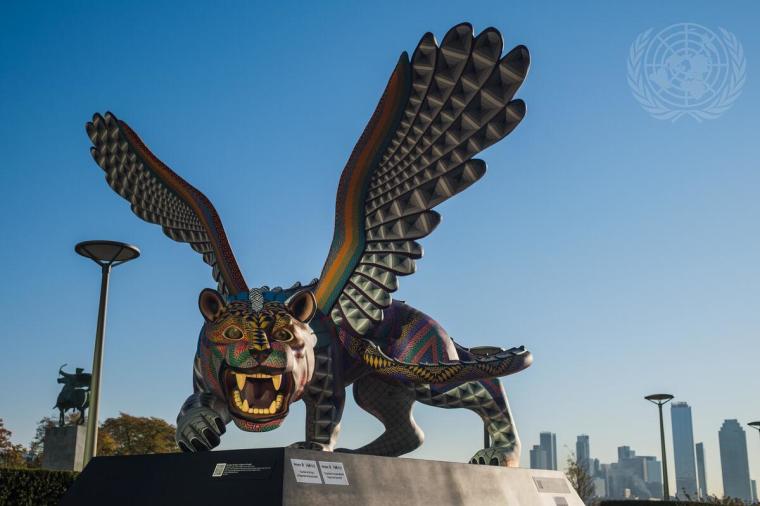 Conservative Christian frenzy over the artwork began brewing after the U.N. tweeted an image of the exhibit on Nov. 9, prompting references to certain scriptures in the Bible, including Daniel 7:2–4 which highlights a vision of beasts, representing governments; one of which is depicted with a body like a lion and wings like an eagle. 
Christians also cited Revelation 13:2 which symbolically refers to a beast given power and authority by Satan. Further reference was also made to I Thessalonians 5:3 which speaks of the End Times when people will say, "There is peace and security," only to experience unexpected ruin.
On Monday evening, tourists quietly snapped shots of the U.N. building from the granite staircase at the Northwest corner of the Ralph Bunche Park named after the first African American to win the Nobel Peace Prize.
The staircase built and dedicated in 1948 during the construction of the U.N. also features The Isaiah Wall, a curved wall located at 1st Avenue and 43rd Street inscribed with an excerpt from Isaiah 2:4 which says: "They shall beat their swords into plowshares, and their spears into pruning hooks; nation shall not lift up sword against nation, neither shall they learn war anymore."
This is just one of the scriptures in Isaiah which speaks of the coming Millennium Kingdom when Jesus will rule and reign the nations from Jerusalem. The United Nations was never going to get nations to "beat their swords into plowshares" but Jesus will certainly do it during His Millennial reign.