Once again this article is taken from the latest edition of Creation Magazine – http://www.creation.com. Don Batten CEO of Creation Ministries International interviews high-profile Singapore researcher Dr Samuel Gan. You must subscribe, it will bless you and your family immensely.
Dr Samuel Gan is the principal investigator and head of the Antibody & Product Development (APD) Lab in Singapore. His qualifications are impressive. He is an adjunct lecturer at Singapore University of Social Sciences, and at Republic Polytechnic, and is an adjunct associate professor at the Singapore campus of James Cook University (Australia). His qualifications include a B.Sc. (Hons) in molecular cell biology, a B.Sc. (Hons) in psychology, an M.Sc. (merit) in structural biology, and a Ph.D. in allergy. He has a diploma in biotechnology, a graduate certificate in academic practice, a postgraduate certificate in business administration, and certificates in commercial law & technology transfer, religious knowledge, biblical studies, and English/Mandarin translation & interpretation. He is also an Associate of King's College, London.
His journey to become a Christian who believes the Biblical view of creation is inspiring. Sam said, He has always believed that God created the universe. But he had a 'crisis of faith' during his mid-teens because of a childhood interest in other world religions.
Logic and rules of things appealed to me in an uncertain world, and science was presented as having answers and being logical and rule-based. It turned out the only religion that made sense was Christianity, but I ended up with a sort of blend of secular 'science' and faith.

No serious scientist could believe that the complexity, order, and time-sensitive interrelationships of living things came about by chance (just physics and chemistry). And the conventional theistic evolution ('God used evolution over billions of years') was way too slow. But given my secular training, I came to have a confused hybrid idea involving a form of accelerated evolution during the six days of Creation Week, like millions of years happening within 6 days in some time-dilation-like model that later slowed down, due to my misinterpretation of 2 Peter 3:8. I hadn't really thought it through!
When CMI's Dr Carl Wieland in 2014 showed the classic slide of 'Eden on bones' (below), in Chin Lien Bible Seminary, Singapore, this challenged Sam's beliefs involving evolution (albeit in a sped-up form). CMI materials helped him align with God's Word. That year he took a stand, moved back to a church that taught 6-day creation, and enrolled in Far Eastern Bible College. That provided a strong foundation on the Word of God, and it turned out to be far more important to him than all his secular education.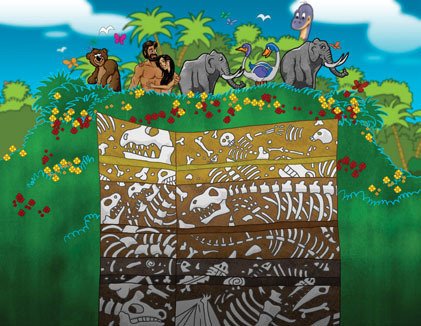 This is what Dr Gan said he would say to a Christian young person thinking of a career in science.
Everyone, regardless of their choice of career, should study—online or part-time—some systematic theology from a good Bible-based seminary or Bible college. The foolishness I had in my younger days would have been avoided had I had more of the wisdom of God. The evolution confusion, the struggles, all came from the lack of knowledge of God's Word. It is wise to get godly wisdom as early as possible.
Dr Gan's testimony demonstrates that believing in biblical creation is clearly no hindrance to a high level of achievement in science. Rather, it is a great advantage. Understanding that a brilliant mind created the highly complex beautiful universe we inhabit, Samuel is like the German mathematician, astronomer and astrologer Johannes Kepler. Referring to his work in astronomy, Kepler said: "I was merely thinking God's thoughts after Him."